Luxury vacation homes in Salzburg and the surrounding Austrian countryside
We believe that your vacation should be the highlight of the year, which is why we make sure to fill it with things that make it the most special it can be: the sound of a crackling fire, the fragrance of soap as you open the bathroom door, the nostalgic swing on the apple tree, and the chilled prosecco waiting for you upon your arrival. It's these small details that create our one-of-a-kind relaxing atmosphere and are at the heart of our luxury vacation homes. Our prime locations nestled amidst the Austrian countryside and placed in the city of Salzburg are the cherry on top of your family vacation or getaway with friends. Do bring along your furry friends, too – there is plenty of place to roam around freely.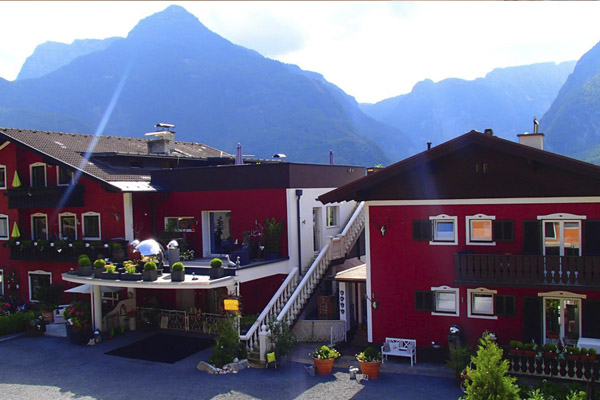 A romantic country-style vacation home with breathtaking views of the surrounding mountains
Sit back and relax with a glass of wine on our rooftop terrace, enjoy a leisurely breakfast in the backyard, or take in the impressive Austrian mountain ranges straight from your bedroom window. The Hunter's Chalet impresses not only with its idyllic yet central location, but also with its cozy country-style interiors, providing the ideal backdrop for a relaxed family vacation.
rooftop terrace, spacious yard, and barbecue area
4 bedrooms, 2 bathrooms, 2 separate WCs
Bicycles and sledges for use
Up to 10 people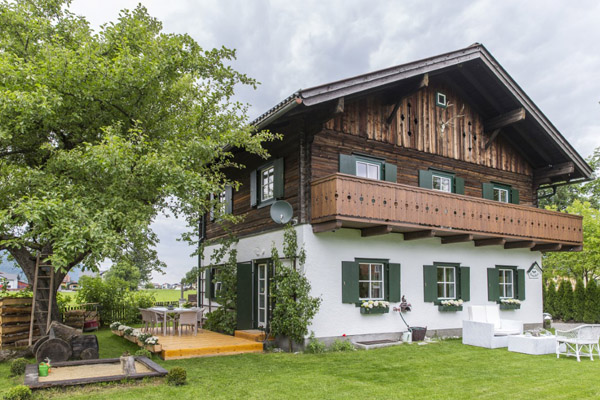 Spend an unforgettable time away with family or friends at our Forest Chalet in an exclusive location that spans across 1000m2.
Playing catch in the spacious yard, practicing yoga under the apple tree, barbecuing on the terrace with friends – all of these things and more are part of the experience that we like to provide for both young and old alike at our luxury vacation home. Set in a secluded location, our Forest Chalet is rich in history and effortlessly combines both Austrian comfort with a modern interior and facilities.
Secluded location with a 1000m2 yard, fire pit and playground
Luxurious bathroom with whirlpool tub
4 bedrooms, 2 bathrooms, 2 separate WCs
Open fireplace, stylish interior
Up to 10 people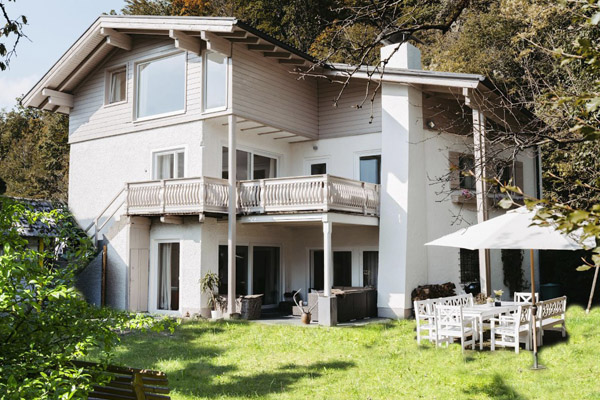 Spend your family vacation in our large luxury vacation home with its spacious backyard and private playground.
Ample space to roam, yet only a stone's throw from many attractions. It's this combination that makes our luxury vacation home the place to be. Quality time in front of an open fire place, a leisurely breakfast in the sun, frolicking in the backyard, or a relaxed barbecue with friends – our spacious home meets all of your vacation needs. The Aqua Salza wellness spa & pools is next door, shopping facilities, the train station and more are all mere minutes away.
Spacious backyard, terrace, lounge
Centrally located
6 bedrooms, 2 bathrooms, 2 separate WCs
Open fireplace
Up to 14 people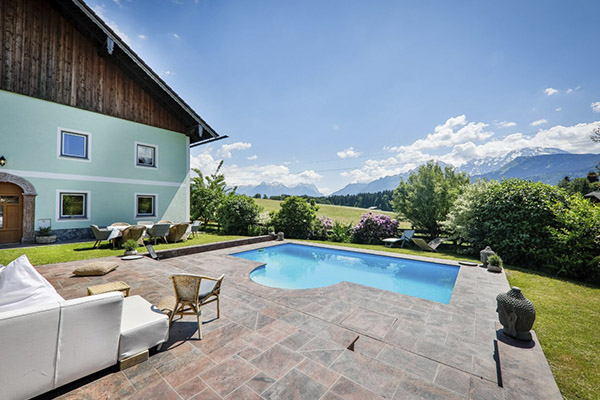 Chalet Green Pastures
A romantic countryside farm with a private pool near the city of Salzburg
Set just 15 kilometers outside of Salzburg, this 150-year-old farm's walls tell of its rich history, while its modern interior and facilities provide everything you need for a relaxed family vacation or unforgettable getaway with your friends. The private pool, large yard, and secluded location set amidst meadows make this place the perfect retreat for guests who seek peace and quiet while still having the benefit of being near the bustle of the culture-rich city of Salzburg.
Privately located on 1500m2 amidst meadows and fields
Private pool (4x8m)
5 bedrooms, 2 bathrooms equipped with WCs, rainshower or whirlpool tub
Up to 12 people
City Villa Riva
A peaceful oasis in a prime location in Salzburg
Our luxury vacation home offers a peaceful retreat amidst the hustle and bustle of Salzburg for guests from all over the world. Located in a quiet spot along the river Saalach with 1000m2 of private backyard, a sauna with a panorama view, and tasteful interiors are what make this luxury townhouse the ideal place for families that crave a bite of peace and quiet, while also getting the most of the cultural flair the city has to offer.
1000sqm of yard, including a sauna
3 bedrooms, 1 bathroom with toilet
Unique city location
Ideal for 6 people, up to 8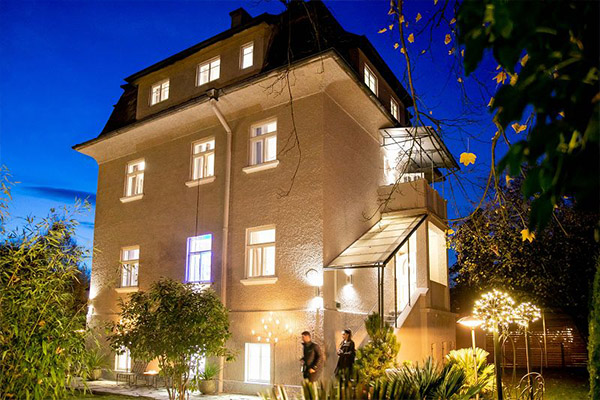 City Villa Wellhouse
A luxury townhouse in a prime location for your unforgettable vacation in Salzburg
Family vacation, weekend getaway, or a trip with your girlfriends? This luxury townhouse offers the ideal backdrop for a unique vacation with your loved ones in the most exclusive part of the city. Situated in the city center along a quiet private road, this vacation home provides both relaxation as well as quick access to the bustle of the city. The newly renovated and luxuriously decorated townhouse features a unique view of the Hohensalzburg Fortress, a large backyard, and ample space across its four floors, as well as a private parking space on the property.
prime location in Salzburg
7 bedrooms, 4 bathrooms, 3 WCs
Stylish, high-end interiors
Up to 16 guests